• OTHER INFO:

OTHER INFORMATION
MARTIAL ARTS EVENT
(SERBIA, BELGRADE, 11th MARCH 2023)
Organized by Vračarević Ana, 9 Dan, Master of Real Aikido and her team, in the Sports Center "Shumice" in Belgrade on March 11, 2023, "Ljuba Vračarević 2023" Martial Arts event was held.
Within this manifestation, Dimitrieski Milan, Kyoshi 7 Dan, Master of Uechi-ryu Okinawa Karate-do style, with the assistance of Protic Zoran, Jun-shihan 4 Dan and Vasiljevic Rade, Shidoin 3 Dan, held an seminar for instructor of Real Aikido. Real Aikido trainers from Serbia, Republic of Srpska and Macedonia participated in the mentioned seminar. About 70 masters were present. The seminar took place in a unique and practical combination of Okinawa Karate and Real Aikido techniques, in a friendly and cordial atmosphere and in a dynamic and martial spirit.
Also, demonstrations of several teams were held. All those present had the opportunity to see the effective application of techniques and tactics of the mentioned martial arts in action and thus expand their martial experience and knowledge.
At the end of the event, Ana Vračarevich handed out certificates of appreciation from the World Center of Real Aikido to all the team leaders.
BACK: TO TOP OF PAGE
UECHI-RYU SEMINAR 2022
(OHRID, NORTH MACEDONIA, 29 ~31 JULY & 3 AUGUST 2022)
In the period from 29th to 31st July 2022, organized by the OKIKUKAI UECHI-RYU Macedonia, a Karate-do Seminar was held in Ohrid led by Dimitrieski Milan, Kyoshi 7 Dan, and Videvski Bore, Jun-Shihan 4 Dan, at which Karate members from Veles, Belgrade and Ohrid took part. At the seminar, the examination for the UECHI-RYU Kyu and Dan ranks was held. Toni Panov successfully passed the test for rank 1 Dan.
Also, for karate instructors from Ohrid and Skopje, Tomoski Djoko and Jovanovski Vladimir (both 4 Dan JKA), a one-day Instructor Seminar was held on 3rd August 2022 under the leadership of Dimitrieski Milan, Kyoshi 7 Dan Uechi-ryu (Serbia) and Leskarovski Boris 6 Dan JKA (Switzerland).
Before this seminar was held, Dimitrieski Milan and Tomoski Djoko were received by the Honorary Consul of the Republic of Serbia in Ohrid, Mr. Filev Mihajlo. In a cordial and friendly conversation, it was agreed that the promotion of martial arts under the auspices of the Consulate would be organized in Ohrid in the coming period.
"SPORTS JOURNAL" SPORTS MIX
(WEDNESDAY, 10th AUGUST 2022, PAGE: 18)
(About the UECHI-RYU SEMINAR held in Ohrid, North Macedonia, from July 29th to 31st, 2022 under the leadership of Dimitrieski Milan, Kyoshi 7 Dan)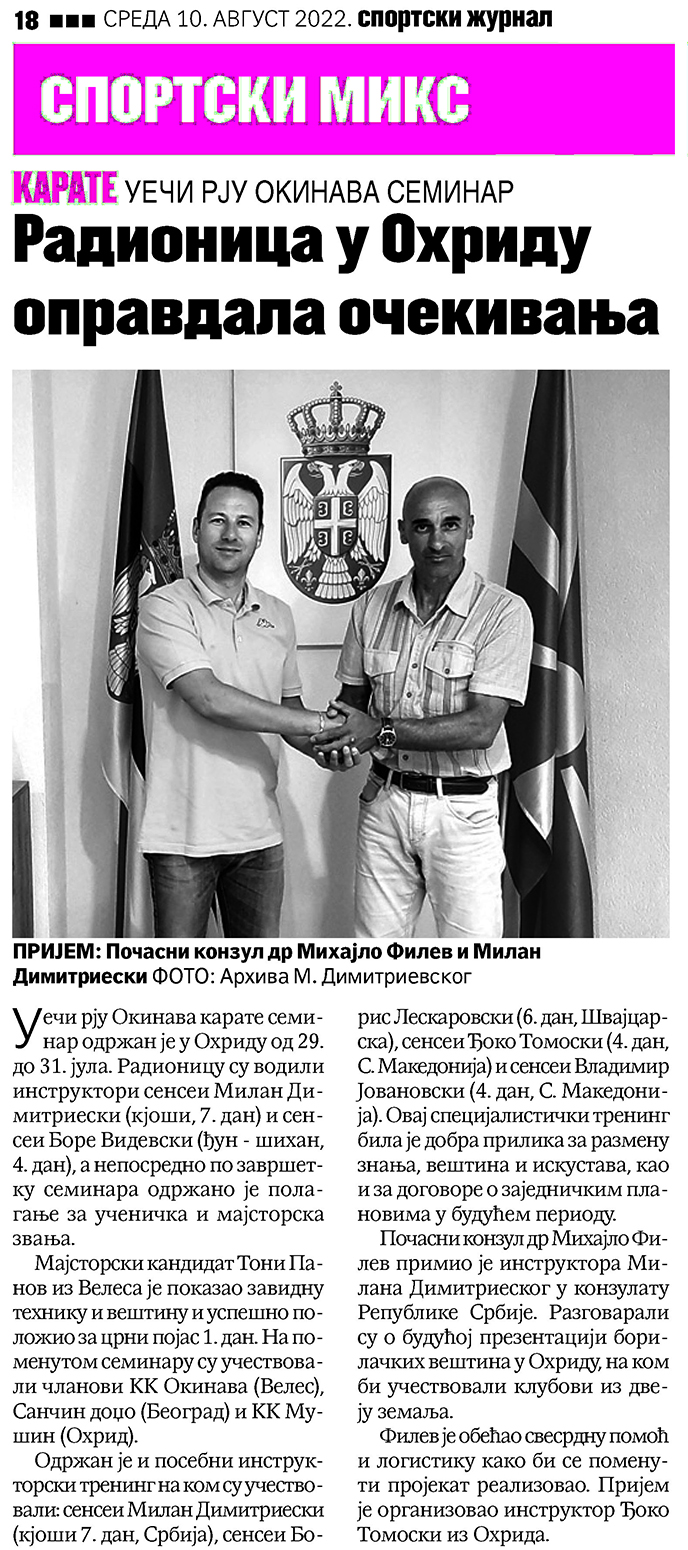 BACK: TO TOP OF PAGE
"SPORTS JOURNAL" SPORTS MIX
(WEDNESDAY, 4th MAY 2022, PAGE: 17)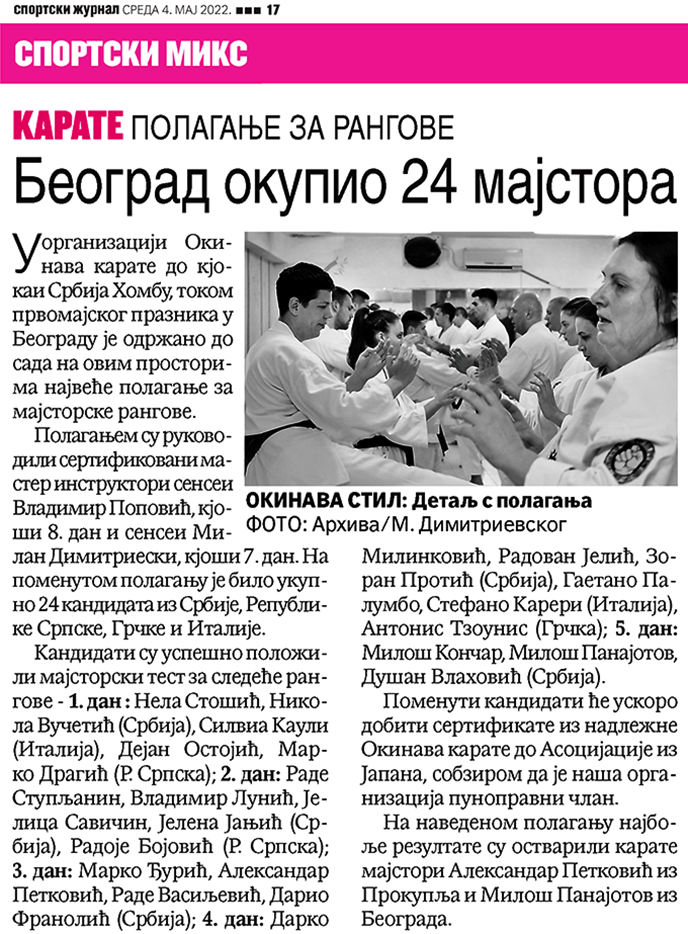 (Translation)
BELGRADE BROUGHT TOGETHER 24 KARATE MASTERS
During the May Day holidays, the largest test for master (Okinawa Karatedo) ranks in this area has been held so far, organized by Okinawa Karate-do Kyokai Serbia Hombu Dojo.
The testing was led by master instructors Vladimir Popović, Kyosh 8. Dan and Milan Dimitrieski, Kyoshi 7. Dan. At the mentioned Dan-ranks testing were 24 candidates from Serbia, Republika Srpska, Greece and Italy.
The candidates successfully passed the test for the following ranks:
1 Dan: Nela Stosic, Nikola Vucetic, Nina Tepavac (Serbia), Cauli Silvia (Italy), Dejan Ostojic and Marko Dragic (Rep. of Srpska, Bosnia & Herzegovina).
2 Dan: Rade Stupljanin, Vladimir Lunic, Jelica Savicin, Jelena Janjic (Serbia) and Radoje Bojovic (Rep. of Srpska, Bosnia & Herzegovina).
3 Dan: Marko Djuric, Aleksandar Petkovic, Rade Vasiljevic and Dario Franolic (Serbia);
4 Dan: Darko Milinkovic, Radovan Jelic, Zoran Protic (Serbia), Antonis Tzounis (Greece), Gaetano Palumbo and Stefano Carreri (Italy); and
5 Dan: Koncar Milos, Panajotov Milos and Dusan Vlahovic (Serbia).
All these candidates will soon receive certificates from our parent association from Okinawa.
Aleksandar Petković from Prokuplje-town and Miloš Panajotov from Belgrade achieved the best results in this test for Dan-ranks.
• (Photo: Okinawa Karate style: Sequence from Dan-test - File: M. Dimitrieski)
BACK: TO TOP OF PAGE
BUDO INTERNATIONAL MAGAZINE
(OFFICIAL EDITION FOR RUSSIA)
www.budointernational.com
UECHI-RYU STYLE OF TRADITIONAL KARATE
by OLEG BILONOGYI, KIEV, UKRAINE
(MARCH 2021)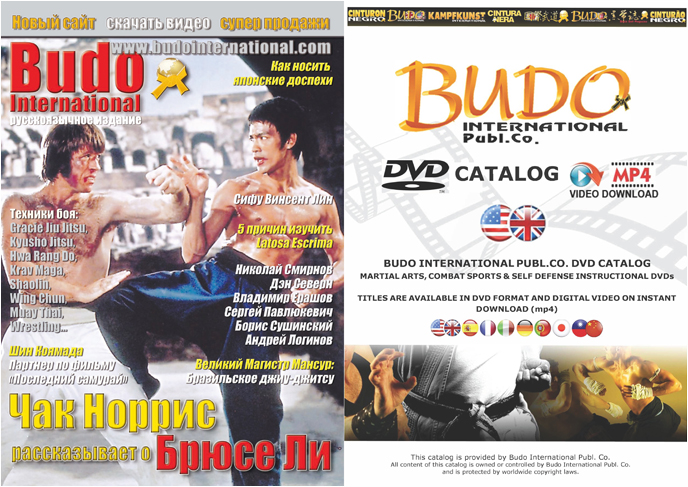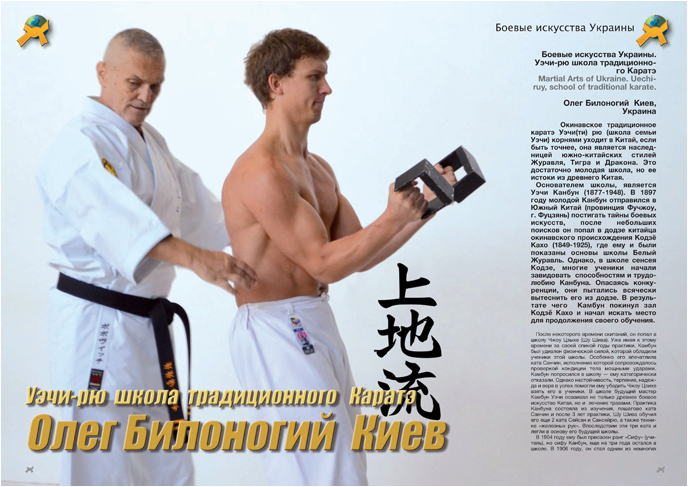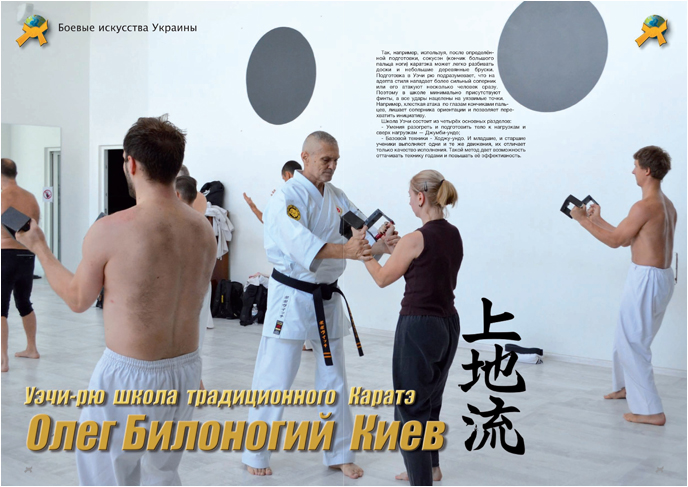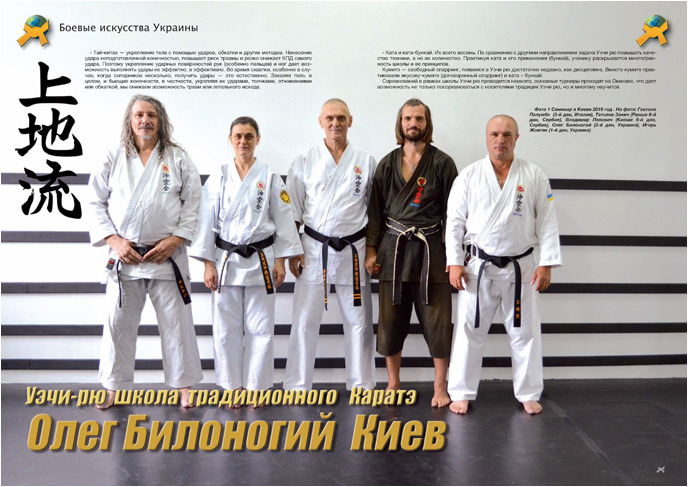 BACK: TO TOP OF PAGE
IN MEMORIAM!!
Mr. MARIO TOPOLSEK
(12 Sept. 1942 ~ 21 Jan. 2021)
UECHI-RYU PIONEER IN SERBIA AND FORMER YUGOSLAVIA,
PASSED AWAY
(Article of "Sport journal" from 26 January 2021)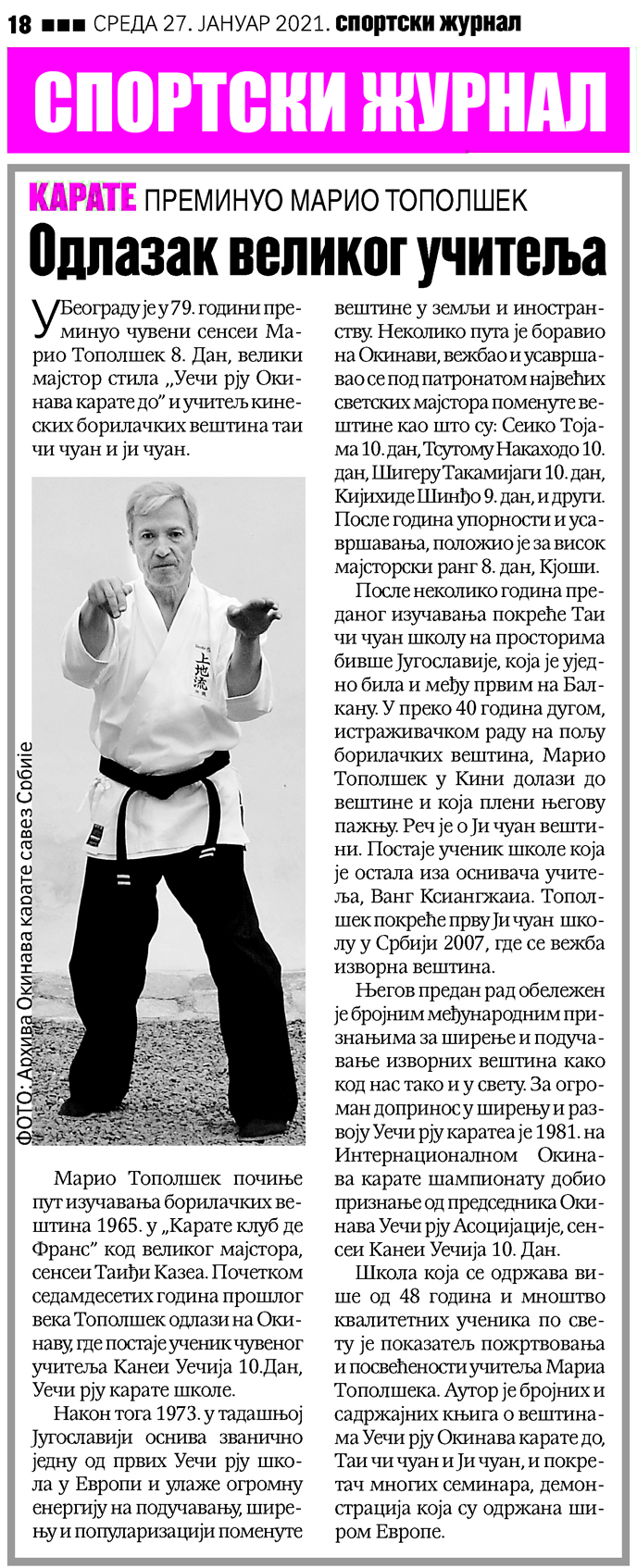 BACK: TO TOP OF PAGE
"SENSA" MAGAZINE / JANUARY 2021.
'UECHI-RYU OCINATES KARATE - ANCIENT SKILL OF SELF-IMPROVING'
THE AUTHOR:: MILAN DIMITRIESKI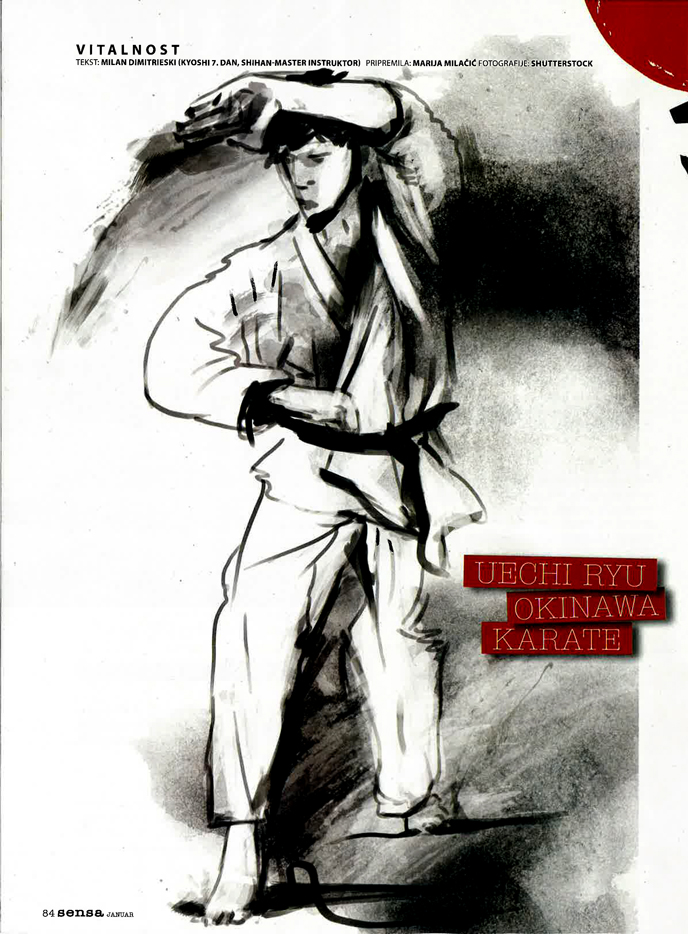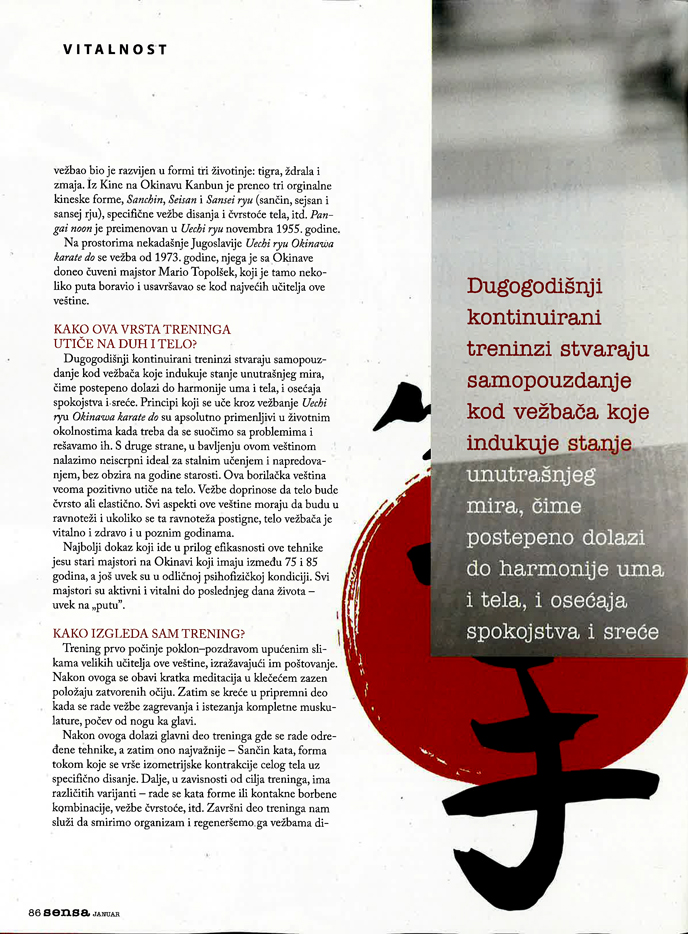 BACK: TO TOP OF PAGE
MILAN DIMITRIESKI • 40th ANNIVERSARY
OF PERSONAL KARATE TRAINING
DAILY NEWS "SPORT'S JOURNAL", 4th OCTOBER 2020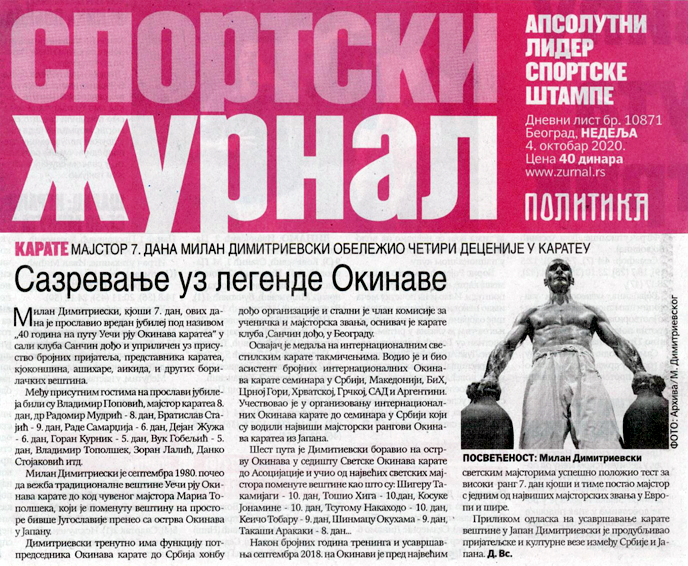 BACK: TO TOP OF PAGE
"WHEN THE MIND AND BODY DO NOT FEEL PAIN"
'NOVI SAD DAILY NEWS', 12th OCTOBER 2020
Newspaper article about the work of the Okikukai Novi Sad Dojo, Serbia:

BACK: TO TOP OF PAGE
MARTIAL ARTS SEMINAR"DIVERSITY UNITES US"
SERBIA, BELGRADE, 18th MAY 2019
At the sports center "VRAČAR" in Belgrade on 18 May 2019 was held the fourth Seminar martial arts entitled as "Diversity unites us." The idea was to connect people of various martial arts and nations with the goal of improving the psychophysical skills of martial artists and strengthening friendship.
The organizer of the seminar was Ki-Aikido club "MUSASHI" from Belgrade. The seminar was attended by practitioners from Serbia, Croatia and Macedonia.
Lecturers at the seminar were:
— Kurnik Goran, 5 Dan Ki-Aikido, Belgrade, Serbia;
— Maric Zoran, 3 Dan, Ivama-ryu Aikido, Zagreb, Croatia;
— Rafolt Leo, 9 Dan Nanbudo, Zagreb, Croatia; and
— Dimitriski Milan, Kyoshi 7 Dan Uechi-ryu, Belgrade, Serbia.
BACK: TO TOP OF PAGE
SERBIAN NATIONAL TV - CHANNEL 1
MONDAY, 11 MARCH 2019
"OKINAWA KARATE INSTRUCTORS IN SERBIA"
BACK: TO TOP OF PAGE
OLD PEOPLE IN OKINAWA PRACTICE MARTIAL ARTS
"NEWS" NEWSPAPER ARTICLE, SUNDAY 3 MARCH 2019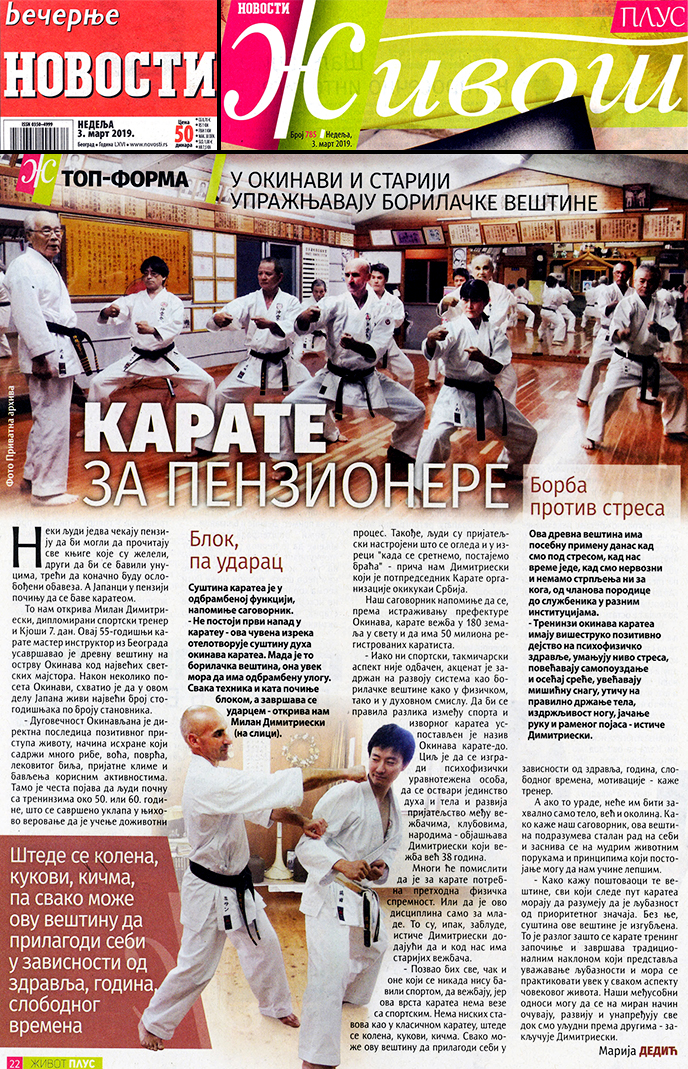 OLD PEOPLE IN OKINAWA PRACTICE MARTIAL ARTS
Some people hardly wait their pension in order to read all the books they have wanted to read, the other ones would like to spend their time with grandchildren, the third ones to be free from obligations whereas Japanese start to do karate when they retire. This revelation comes from Milan Dimitrieski, a graduated sports coach and 7-Dan Kyoshi. This 55-year-old master instructor from Belgrade has mastered this ancient skill on the Okinawa Island with the greatest world masters. After several visits to Okinawa, he realized that the largest number of centenarians per number of citizens lives in this part of Japan.
"The longevity of Okinawans is a direct result of the positive attitude to life, the nutrition which includes a lot of fish, fruit, vegetables, herbs, pleasant climate and useful activities. People often start training around the age of 50 or 60, which perfectly suits their belief that learning is a lifelong process. Also, people are friendly, which can be seen from the saying "when we meet, we become brothers" – Dimitrieski says, who is the co-president of the Serbia Okikukai Karate Organization.
Our interlocutor emphasizes that according to the research carried out in Okinawa Prefecture, karate is done in 180 countries in the world and there are about 50 million registered karate practitioners. "Although not even the sports competitive aspect is rejected, the focus is on the development of the system as a martial art both in physical and spiritual sense. In order to make difference between sports and original karate the term Okinawa karate-do has been established. The aim is to build psychophysically balanced person, to reach the unity of mind and body and cherish friendship between practitioners, clubs, nations"- Dimitrieski, who has been practicing for 38 years, explains.
Many people think that you need prior physical readiness for karate or that this is the discipline only for young people. "This is wrong", Dimitrieski says and adds that there are older practitioners in our country, too.
"I would like to invite all people, even those who have never played any sport, to practice because this type of karate does not have anything to do with sport one. There are no low postures like in classical karate, and knees, hips and spine are spared. Everyone can adjust this skill to themselves depending on their health, age, free time, motivation", the coach says.
If they do so, not only their body will be grateful, but their surroundings, as well. As our interlocutor says, this skill implies the constant work on yourself and it is based on wise life messages and principles, which can improve our life.
"All people that follow the way of karate have to understand that kindness is a priority. Without it, the essence of this skill is lost. This is the reason why karate training is begun and ended with traditional bowing, which represents appreciation of kindness and it has to be always practiced in every aspect of the life of a man. Our mutual relationships can be preserved, developed and improved in a peaceful manner as long as we are humane to other people" - Dimitrieski concludes.
Fight against stress
This ancient skill has special implementation today when we are under stress, when time kills us, when we are nervous and we do not have patience for anyone, from members of our family to clerks in various institutions. "Okinawa karate training has multiple positive effect on our psychophysical health, it reduces the level of stress, increases self-confidence and the feeling of happiness, it increases muscular strength, it affects proper body posture, leg resistance, strengthening arms and shoulders" – Dimitrieski points out.
Block, then kick
The point of karate is in its defensive function. "There is no first kick in karate - this famous saying reveals the essence of the spirit of Okinawa karate. Although this is a martial art, it always has to have a defensive role. Each technique and kata begins with block, and ends with kick" – Milan Dimitrieski (in the picture) says.
BACK: TO TOP OF PAGE
OKIKUKAI SERBIA HOMBU DOJO
HEADQUARTER ANUAL MEETING 2015
SERBIA, BELGRADE, 24th December 2015
A Final annual meeting of the Okikukai Serbia Hombu Dojo Headquarter for 2015 was held on 24 December in Belgrade. For the past year the results were analyzed, and the plans for 2016 are adopted.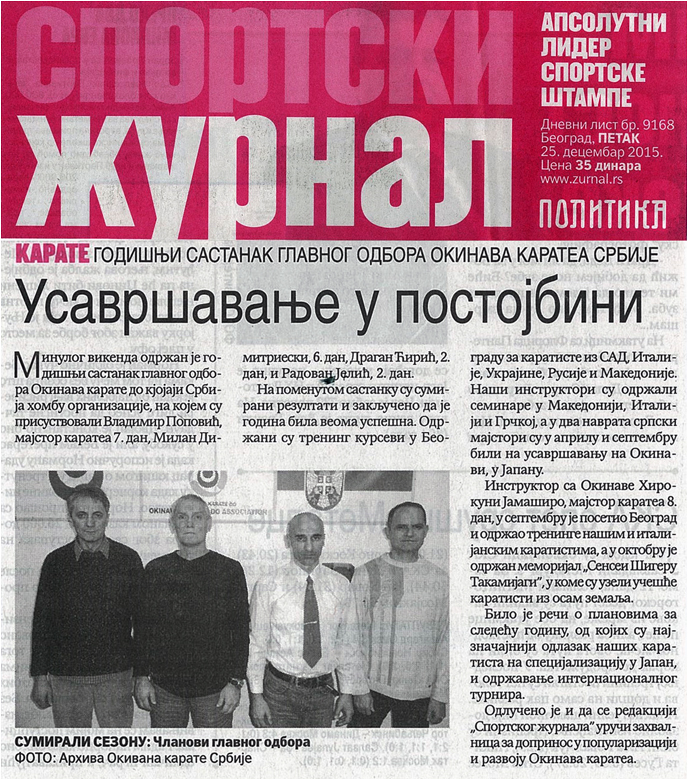 (On the photo from left: Jelic Radovan, Popovic Vladimir, Dimitrieski Milan & Ciric Dragan)
BACK: TO TOP OF PAGE
SPORTS' DAY 2015
SERBIA, BELGRADE, ZVEZDARA MUNICIPALITY
13th June 2010
In Belgrade, Zvezdara Municipality was hold Spring Sports' Day at 13th June 2015. Common team of the Okikukai Serbia Hombu and Sanchin Dojo was participated in this manifestation.
Common Uechi-ryu team (from left to right) Okikukai Serbia Hombui members: Vasovic Milos, jelic Stefan, Panajotov Milos & Popovic Vladimir; Okikukai Sanchin Dojo members: Dimitrieski Milan, Koncar Milos, Vasiljevic Rade, Mijailovic Vukasin & Petrovic Andrija
BACK: TO TOP OF PAGE
SPORTS' DAYS 2010
SERBIA, BELGRADE • 29th ~ 30th May 2010
In Belgrade's lake Ada-Ciganlia was hold "The Sports' Days 2010" at 29th and 30th May 2010. Team of the Okikukai Serbia Hombu was participated in this traditional manifestation and demonstrate Hojo-undo, Kata Sanchin, Kanshiwa & Kanchin, as well as Yakusoku-kumite, Kitae & Tameshiwari.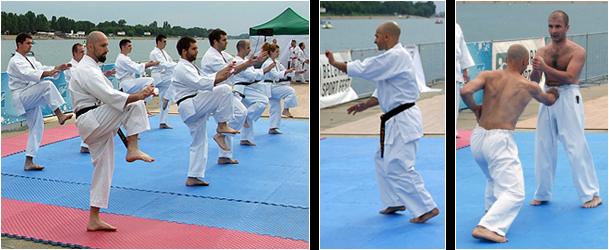 HOJO-UNDO, KANCHIN-KATA & SANCHIN-KITAI

TAMESHIWARI
(left) Dimitrieski Milan & Tadic Dejan, (middle) Dimitrieski Milan & Djordjevic Marko,
(right) Tadic Dejan & Koncar Milos